VeeDee ROIDMI 2s BluetoothFMTransmitter Car BluetoothCharger Adapter 2 in1 Charger
Rs.

1990
Rs.

1990
( % Off )
Check availability at:
* For Indian Pincodes only
VeeDee ROIDMI 2S Bluetooth FM Transmitter Car BluetoothCharger Adapter 2in1 Charger
Product Description
Roidmi 2s is your ultimate bluetooth music player and car charger that upgrades your vehicle to a whole new level,
With Roidmi 2s, you can stream your favorite music directly from your smart phone using Roidmi app,
and charge your device faster than ever, Enjoy your ride with entertainment and convenience!
Product Features
ROIDMI 2S car charger adapter, 2 in 1 music player & car charger , update your car.
Via bluetooth pair, one click connect, support music smart continuous play.
Dual USB Port, MAX Single Port Output 2.1A.
Fully optimize the charging efficiency, power conversion rate of 91%.
High-performance circuit master chip, 8 circuit protect.
Minimalist design, precision workmanship.
PRODUCT SPECIFICATION
Stream Your Favorite Music While Driving
Simple Setup, Easy Streaming
Just insert Roidmi 2s smart car charger into the cigarette lighter,
connect to your bluetooth device via Roidmi app,
let the app automatically scan for highest-quality FM radio stations for you,
and start streaming your favorite music in your car.
Roidmi 2s and Roidmi App are compatible with all mainstream music apps.
With intelligent noise reduction, free radio connection, and high-definition playback, you turn your car into an entertainment center.




Fast Charging
Multiple Devices, Twice as Fast
Roidmi 2s also provides you with the ultimate convenience of charging multiple devices in your car.
Roidmi's dual USB ports support accelerated charging with 2.4A for a single output, and 3.8A for a dual output.
The suitable input voltage is 12/24V DC, creating 2X charging speed as normal car chargers.
The 95% conversion rate of electrical energy also saves time and energy.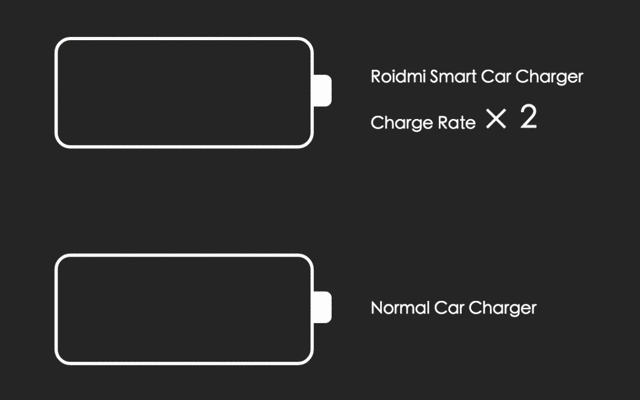 System Compatibility
Roidmi 2s and Roidmi App are compatible with both Android and iOS systems




Hands-Free Calling
No More Missing Calls
Roidmi's built-in microphone makes for clearer, more effective hands-free communication and ensures a safer driving experience.
Roidmi's microphone possesses a unique background noise reduction function to increase clarity. When there's an incoming call,
just shake the phone to answer, and music streaming will be paused automatically.
By simply shaking your phone, you can suspend music playing and receive phone calls.
LED System
The USB ports are illuminated by LED lights that can be adjusted in the app
Battery Voltage Monitor Function
Roidmi 2s constantly monitors your vehicle's battery voltage. When the battery is low,
both Roidmi charger and app will alert you with red warning lights and warning sound, making for a safer driving experience.
FM Radio Scanning
Roidmi 2s allows you to stream music safely while driving, with intelligent noise reduction,
free FM radio connection, and high-definition playback. It scans for the highest-quality FM radio stations,
combining with intelligent background noise-reduction function, greatly enhancing sound quality.
Compatible
Package Include
1 x Car charger adapter


Terms of sales
6 month warranty, buy with confidence.
In case the item you received is wrong, please take photos and contact us. We will send you a correct one.
If you're not satisfied with the item while it is in good condition, please return it to us within 14 days. We will either send you a new one or give your money back.
If the item doesn't work, please take photos or videos and contact us. We will send you a new one as soon as we receive the defective item.
This product comes with six month seller Warranty for any manufacturing defect.

Vendor details
Veedee Enterprises
G No.2, Dhiraj, Next to Bhoomi Ustav Building (Canara Bank)
MG Road, Kandivali west, Mumbai - 400067,
if you have any question or query please contect-
office +Phone - 022-28015755/52/54
Email ID - veedeedirect@gmail.com